Read about what our residents and their families have to say about senior living at Sherwood House:
In the the three years since our family member moved in (begrudgingly from their private home) — we have never had an issue at Sherwood House and I am fussy. The family member is happy they chose to live in Sherwood House and are very content — and that is top priority. Staff have been professional and responsive in all facets of service and including safety and security. Sherwood House is a relatively small complex which I believe enables them to offer more personalized care and interactions with clients and provide excellent communication with family members. With regard to Covid precautions and protocol — they have been exemplary in their communication and nimbleness to respond accordingly. Thank you for taking care of our family member so well!
Thank you for keeping my Mom safe both generally and yesterday during the fire alarm. It was obvious to me that you had a plan and even if plans can be fine tuned, everyone from what I could see was safe. Thanks so much. I also want to thank you for that lovely letter that you sent Mom last week. She has been feeling kind of useless as many of her roles in the family and elsewhere are not possible for her to do anymore. She is very pleased to know that she has a role as an encourager.
Karen Davis
Joe and Sol met at Sherwood House October 2014.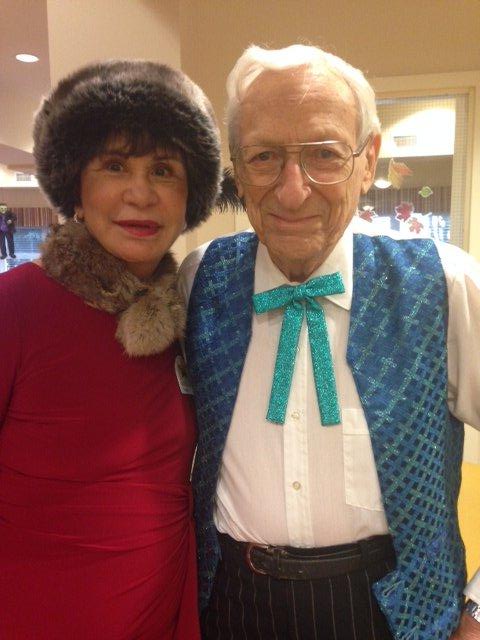 Joe moved into Sherwood a month after Sol. He was drawn to this beautiful lady, not only for her charm but also to use his hidden talent of speaking Spanish.
Sol was very pleased to have someone to converse with in her language.
With Joe's friendship Sol settled in nicely to Sherwood House, making new friends and gaining confidence to speak English. Their love blossomed as their friendship entwined their hearts.
They were engaged in Dec, 2014 with the blessing of all the residents and staff of Sherwood.
Joe and Sol made history at Sherwood House when they were married in May, 2015 becoming Sherwood House's First Wedding.
Thank You so much for caring for our mom is such a kind way.
We appreciate all you do for her and all the other residents too.
May God bless you today and always! You are extraordinary people with such warm hearts for the elderly.
– Sincerely Jeanette Jackson & Jenny Cnossen's family.
Thank you for making dad's stay with you so enjoyable. He always had many nice
Things to say and do. We can't say enough about the care, support and true
Friendliness of all that work and live there.
It takes the staff to create that and that will always be remembered.
Warm Wishes
Hubert Colbourne & Family
A little more than a year ago, my step-father passed away and my husband and I began the difficult process of helping my mother adjust to a new life. The most challenging part of this journey was helping my mother realize that her home was now too large and remote for her to continue to live there safely. My husband and I were determined to find accommodation for my mother that was safe, friendly and allowed her the independence she so keenly wanted to preserve. It only took us a couple of minutes during our first tour of Sherwood House to realize we had found that place. Managers Bev and Roz Wilson are attentive, understanding and professional: it was clear they had helped many families make this transition and we felt in great hands. We had a few tours, including lunches and dinners in the dining room with the other residents, all of whom were welcoming and happy, and with every visit my mother felt more comfortable.
Now a year and a half later, I can say that our first impressions were spot on. All the staff, from the front desk, to the kitchen, to the cleaners, are kind and caring. My mother, home maker and cook extraordinaire, tells everyone how nice and clean the building is, how delicious the food tastes, and how everyone is so very helpful. A year and a half ago, we worried that she'd never say that about anywhere. Today, although she's begun repeating herself a little more often, every time we hear those words, we are so very glad.
– Melanie
Sherwood House is a very welcoming and bright facility with quality services and friendly staff. We so appreciated the tour and all our questions answered along the way. Also enjoyed the tasty guest lunch, and meeting many of the genuinely happy residents.
– Family of a new resident
I moved to Sherwood House three years ago and pleased to say, the move from my own home, for me was made easy and cheerful by management & residents alike…
– Erika Wright
I love it here at Sherwood House. I have no regrets at all for moving here. Everyone is really nice and treats you really good. I certainly say you should move in here….
– Thelma Rodrigues
I, Alice Clarke wish to say I have thoroughly enjoyed my stay at Sherwood House. I will miss everyone, Thank You all for being so nice to me.
– Alice H. Clarke
Good food, good friends, good management.
– Julia Douglas