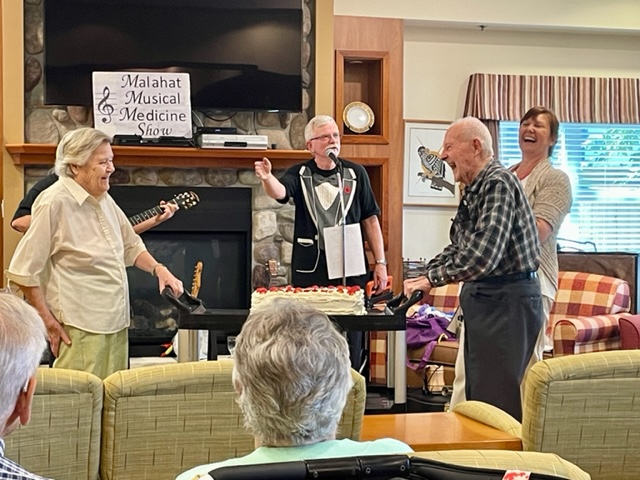 In our independent living community here at Sherwood House in Duncan, BC, we don't think of ourselves as old folks. Our dedicated and caring staff don't call our community members old folks. They are residents who live here, not old folks. Our residents are artists, writers, photographers and learners, exploring and learning new things throughout life. Aging is inevitable, but growing old is a choice. Here at Sherwood, we take care of the day-to-day chores, like cooking, cleaning and more, so time can be spent doing what we love. 
Our resident, Janet Lancey wrote a beautiful piece about the label old. In Janet's words, "age is not a number, and it has nothing to do with appearance or status. It is Indeed how you choose to lead your life".
Do you think of old folks when you hear about Zumba dance? Not usually, but here at Sherwood, we make Zumba a regular activity. If Dance isn't your thing, no problem. Janet emphasizes the importance of grasping opportunities to keep growing learning, and helping others gain better lives. Here at Sherwood, this is extremely important to us. We host an array of activities for each and every resident's interest and ability. From book clubs to exercise classes to creative craft days, we encourage residents to grow skills and spark joy.
Janet explains that no matter her age, she wants to be around people who choose to stay interested in life. We encourage our residents to live spirited, fun-filled lives. Entertainment is one of our specialties and our activity coordinator always has something fun planned! Our charismatic living community understands the value of social engagement.
We want you to feel at home, and we plan social regular events like games nights, birthday parties, live music events and more! "Even as our aging bodies betray us, and we can no longer be physically strong, we can still be vibrant and full of life" Janet states, "old isn't my age, and I choose to stay young". At Sherwood, we understand the challenges that come with aging, but our caring staff and dedicated community ensure that these challenges do not come in between the enjoyment of our lives.